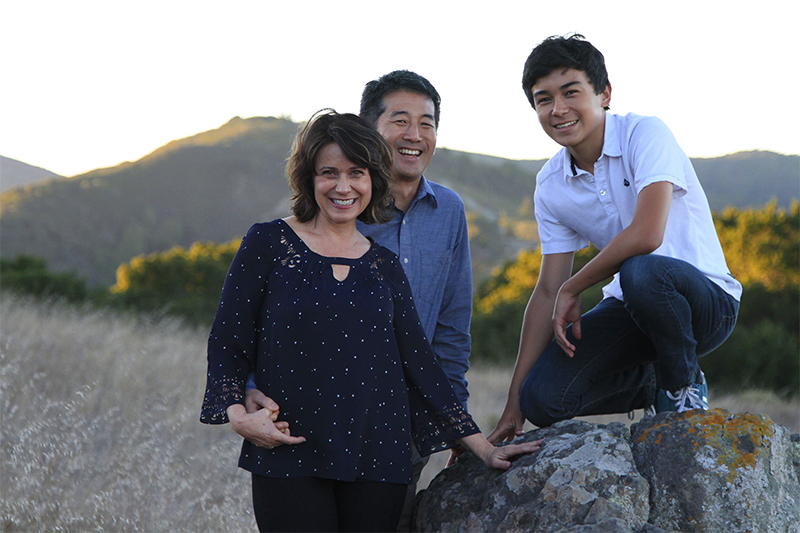 Kenji and Lynette met shortly before starting acupuncture school. Both had strong science backgrounds, Kenji in Geology and Lynette in Biology. She studied Anthropology and was keen on other culture's perspectives of medicine and health. After working for several years, both felt they had much more to offer the community and wanted to guide others into living life at their optimum health.
They went through rigorous training at American College of Traditional Chinese Medicine, one of the top acupuncture schools in the country. After graduation and passing both their California Boards and National Boards, and with a newborn son in tow, they established a practice in San Rafael, Marin County, Kenji's hometown. They have now been practicing for 20 years.
About Lynette
Lynette Hirabayashi, MS., L.Ac., is the co-founder of Marin Family Acupuncture. She began her formal practice in 2001, but her interest in natural medicine sprouted while she was an undergraduate at Indiana University. She followed her curiosity to the rain forests of Peru, where she discovered her passion for healing with plant-based medicines.
Since then, she has discovered herself as a lifetime student and intuitive teacher. Lynette is always looking for ways to increase her understanding and share what she's learned. She was first drawn to work with patients in need of detox support, and gathered much of her early experience working in community health settings in San Francisco. She has worked with the Pan African Acupuncture Project, where she taught acupuncture to local healthcare professionals and healers in Uganda.
Today, she maintains a busy family practice in Marin County and welcomes all ages. She is especially enthusiastic to work with families needing fertility assistance, whether they are going through an IVF cycle or attempting natural conception. Patients often comment on Lynette's particularly keen way of listening and asserting a holistic and comprehensive diagnosis plan. She inspires her patients with the confidence to achieve their goals by offering simple tools they can use to support optimal health. In addition to her private practice, Lynette provides fertility-related acupuncture at Pacific Fertility Center, Laurel Fertility Care, and UCSF in San Francisco.
Lynette has called the Bay Area home for 25 years and currently lives in San Anselmo with her husband, son, and family dog.  Together, they can be found hiking, reading a good book, or indulging in their new favorite activity, paddle boarding.
Formal Training:
Master's Degree, American College of Traditional Chinese Medicine, San Francisco, CA
Licensed, National Certification Commission (NCCAOM) in Acupuncture and Herbal Medicine
Fellow, American Board of Oriental Reproductive Medicine (ABORM)
Additional Specialties:
Motor-Point Therapy/Sports Medicine: Matt Callison
Dr. Tan's Balance Method
Jimmy Wei Chang's Pulsynergy
CranioSacral Therapy/ Upledger and Biodynamic styles
About Kenji
Kenji is the co-founder of Marin Family Acupuncture. He was drawn to the philosophy of traditional Chinese medicine because it resonated with his ideas of health and disease. The Chinese medicine perspective of the body reflects patterns found in nature.
Kenji found it inspiring working in community health settings in San Francisco treating addiction, mental health issues, and pain. He values collaborating with the Western medical community. Working several years at an integrated pharmacy allowed him to offer Chinese medicine based classes to the community of Marin County.
Kenji became certified in Sports Medicine through mentoring with Whitfield Reaves, L.Ac. This specialization is an extension of his love for trail running (with his beloved dog) and mountain biking, as well as his experience as a rock climber and mountaineer. As an athlete, he has a strong understanding of body mechanics and the importance of good nutrition.
He worked for four season with the Dominican University Men's Basketball Team providing performance enhancement and pain relief using acupuncture and Chinese medicine. Kenji has been an adjunct faculty member at American College of Traditional Chinese Medicine, teaching doctoral courses on Orthopedics and pain management utilizing acupuncture.
Formal Training and Licensure:
Whitfield Reaves Acupuncture Sports Medicine Apprenticeship Certification
Matt Callison's Sports Medicine Acupuncture
Master's degree, American College of Traditional Chinese Medicine, San Francisco
Licensed Acupuncturist, National Certification Commission (NCCAOM)
Licensed Acupuncturist, California Acupuncture Board
Qi Gong- Northern Shaolin muscle-tendon relaxation practice with Sifu Scott Jensen of 10,000 Victories Kung Fu
Master's degree, Geologic Sciences, San Diego State